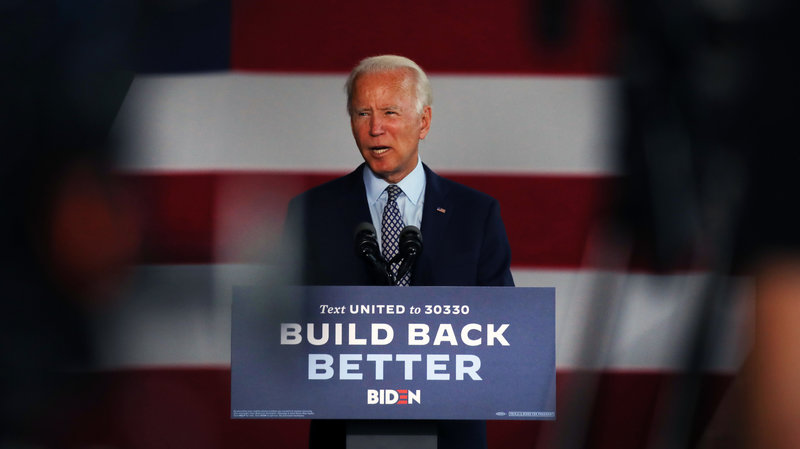 ---
SPEECHES
Below are two climate speeches from Democratic Presidential Candidate Joe Biden.
He outlines his vision for a climate plan, infrastructure and economic recovery.
7/14/20 - Biden Releases $2 Trillion Climate Plan and Economic Disparity
Biden's $2 trillion climate plan aims to correct racial disparities (The Hill, 7-14-20)
7/9/20 - Joe Biden Economic Task Force
Biden Counters Trump's 'America First' With 'Build Back Better' Economic Plan (NPR, 7-9-20)
---
BIDEN-SANDERS UNITY TASK FORCE
Unity Task Force Recommendations - 7/8/2020 (PDF)
Below we will describe what is on each task force.
Climate Task Force Pages 1-6
Criminal Justice Task Force Pages 7-10
Economic Task Force Pages 11-21
Education Task Force 22-27
Health Care Task Force 28-37
Immigration Task Force 38-41
Climate Unity Task Force Recommendations 42-55
Criminal Justice Task Force Recommendations 56-62
Economic Unity Task Force Recommendations 63-77
Education Unity Task Force Recommendations 78-88
Health Care Unity Task Force Recommendations 89-101
Immigration Task Force Recommendations 102-110
GENERAL NEWS ABOUT THE BIDEN-SANDERS TASK FORCE
6 Takeaways From the Biden-Sanders Joint Task Force Proposals (New York Times, 7-9-20)
Democratic Task Forces Deliver Biden A Blueprint For A Progressive Presidency (NPR, 7-8-20)
CLIMATE TASK FORCE NEWS
Sanders-Biden climate task force calls for carbon-free power by 2035 (The Hill, 7-8-20)
ECONOMIC TASK FORCE NEWS
Will the Biden-Sanders Economic Task Force Rattle the Rich? (Counter Punch, 7-13-20)